Race Photography
New for 2015
Due to the typical race day, Labor Day, falling within the box jellyfish window the race has been moved up a couple days to Saturday. The date adjustment is just for this year.
2014 Results
Top 3 Male Finishers
Simon Huitenga; Perth, Australia 45:36
Rhys Mainstone;; Perth, Australia 45:41
Yasunari Hirai Surfers Paradise, Australia 45:47
Top 3 Female Finishers
Becca Mann; Homer Glen, Illinois 51:22
Kareena Lee; Twin Waters, Australia 51:35
Beatrix Eisel; Wiesbaden, Germany 54:21

Pacific Sports Events & Timing

2014 Race News
Swim Swam Race Summary
Swim Swam Photo Vault

2014 Race Photos
Race Photos by Sport Photo
WRS 2014 Gallery

Open Water Tips
Alex Kostich, 2006 Waikiki Roughwater Swim Winner has 10 tips for preparing to swim in 2007
Rebecca Soni, 2008 Olympic Gold Medalist Swimming tips

History
THE SWIM HISTORY
The world famous swim's story from the beginning.
NEW EASY-READ YEARLY RESULTS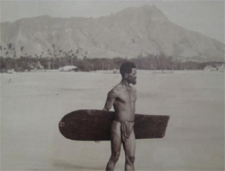 See how you stack up against the most prolific Waikiki Roughwater swimmers in the list of finisher statistics.
The World Open Water Swimming Association has named the Waikiki Roughwater Swim one of the top 100 open water swimming races in the world.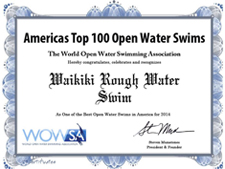 Sponsors

46th Annual Waikiki Roughwater Swim
Saturday, September 5, 2015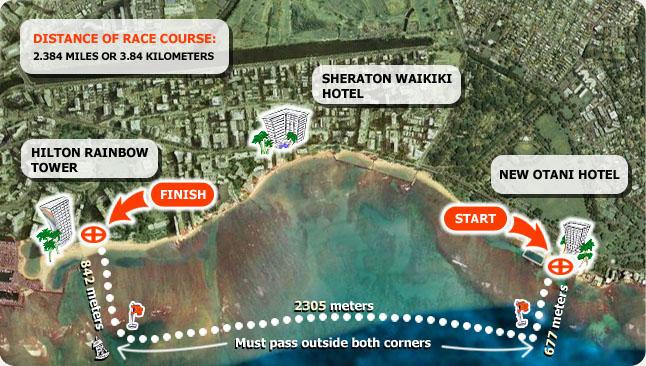 Waikiki Roughwater Swim 2015

Saturday, September 5, 2015 8:30 AM
Sans Souci Beach between the Natatorium and the New Otani Kaimana Beach Hotel
Waikiki, HI




Brief Description:
2.348 Mile Ocean Swim Race
Fees:

Online: $50.00 before Midnight HST June 15, 2015
Online: $75.00 before Midnight HST August 15, 2015
Online: $85.00 before Midnight HST September 2, 2015
Mail In: $85.00 Postmarked by August 16, 2015
In Person: $85.00 on September 4, 2015
In Person: $100.00 Cash Only on September 5, 2015

Awards:
Top 3 Age Group Finishers, Elite Award, 5 Year Age Group Awards, Bossabean Award and Special Award
Travel:
Book your stay at the Queen Kapiolani Hotel.
Entry List:
Look here for a preliminary entry list as of August 16, 2015.
Competitor Information:
Registered competitors will receive race notices and information via email. The details will also be posted here.

Swim with Mike
The Mission of Swim with Mike is to provide financial resources for advanced education that pave the way for physically challenged athletes to overcome their tragedies and realize their full potential.
www.swimwithmike.org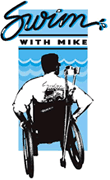 2015 T-Shirt Design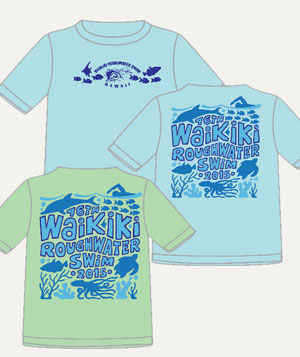 Waikiki Roughwater Swimsuits
Commemorate your HARDCORE swim in Waikiki! Men's and Women's Custom Waikiki Roughwater Swim suits and shorts will be available though
Hardcore Swim
. Pre-orders will be offered and suits will available for pick up at pre-registration or on race day.