Tee Shirt Design
2017 Waikiki Roughwater Swim Tee Shirt Design Contest
The Waikiki Roughwater Swim Committee is searching for the perfect design for the 2017, 48th Annual Waikiki Roughwater Swim participant and volunteer t-shirt.

The Roughwater Swim will be held at Waikiki Beach on Labor Day, Monday September 4, 2017.

Design may be about 12 inches by 12 inches centered at shirt back and include the phase "48th Waikiki Roughwater Swim" as well as 2017 (the year but not the date). "Wrap around" art may also be considered. The WRS logo shown below may be used on the front pocket area. However, if the design works a pocket version of the art may be used. No more than five colors should be utilized in the design. Application will be used on both T-Shirts and Tank Shirts as well as long sleeved dri fits for water safety.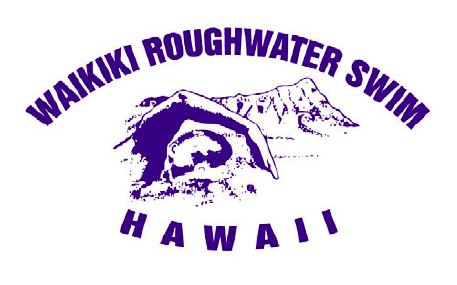 Pocket Design

Design should include a Hawai'ian/Waikiki/Ocean/Swimming motif. For inspiration on the design see past designs linked below.

$300 Cash Prize to the artist who submits the winning entry.

Please submit questions to kaiawrs@gmail.com

Submit digital art work no later than Wednesday May 31, 2017 to: Kaia Hedlund at kaiawrs@gmail.com

The winning design will be determined by the end of June 2017.

The design for the 48th Annual Waikiki Roughwater Swim t-shirt should incorporate the "spirit" of open water swimming in Hawaii as well as the magic of Waikiki. A simple, classic design is preferred. Elements may include any of the following: Diamond Head, the War Memorial Natatorium at the start, the Rainbow Tower at Duke Kahanamoku Beach at the Finish, the clean clear water and the abundant sea creatures such as Naia, Honu and the Humuhumunukuapuaa which are seen along the course. While the Waikiki Roughwater Swim is one of the most scenic open water swims in the world, it is also one of the most competitive and challenging swims as well.
Follow the links below to view t-shirt designs from past years:
2016
2015
2014
2013
2012
2011
2010
2009
2008
2007